In WakeupData Actions, you have two options to act on your data: single edit and bulk edit. In this article, we will look at editing a single product.
Once we've tested the quality of your product data and structured the results in 4 key categories based on value and importance, it is time to act on the insights and fix the issues. Here is how to edit a single product if you need to correct minor issues:
Click the product you want to edit (1), then click "Edit" (2), add or correct the data in question (3) and save the changes (4).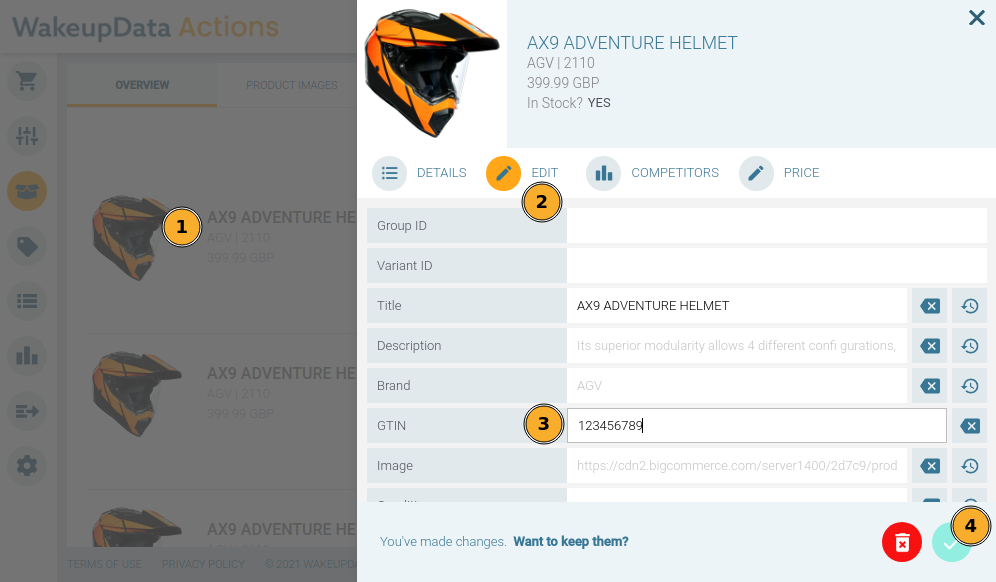 When to use:
Acting on a single product is best for cases when there are just a few products that have a quality issue, and you can quickly add the missing values or overwrite incorrect ones.
For issues affecting many or all products, you might have to talk to your product manager or web developers. Getting the right data through your product manager or developer can be a slow process. In many cases issues can also be solved by setting up a scrape or custom transformation via WakeupData Connect.
A Few Examples:
You wish to quickly add a missing color to a couple of products in your catalog, as they are part of a campaign you are starting soon.
You wish to quickly add the shipping price for a couple of products in your catalog, as they are being rejected by Google/Facebook for missing the attribute.
You wish to quickly adjust the prices for a couple of products, as there is an error in your ERP/PIM system but you have to start your campaign asap.
If you have any questions or need help, drop us a message in the chat on the bottom right corner - we'll help you sort it out quickly!